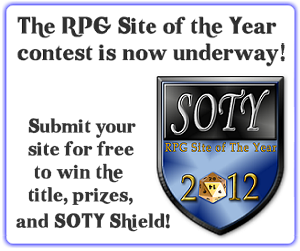 The time has come again for the SOTY to be handed out to another deserving website. The crew at
Stuffer Shack
have a yearly contest to determine the RPG Site of the Year and the time has come again for you all to vote for who you think should be nominated for this prestigious award. Last year
Critical Hits
won the award and received a plethora of great prizes for their great dedication to the gaming in general.
This year, the award will be once again presented to the site most deserving of this acclamation.
A message from the site owner:
My name is Tourq Stevens, and this contest is being hosted by Stuffer Shack. Every month Stuffer Shack showcases a great blog in a feature called Site of the Month. Well, after a year of being online, it only seemed natural to begin a Site of the Year feature. However, wherein our Site of the Month stems from a simple arbitrary decision on which blog to showcase, our Site of the Year (SOTY) is an eleven-month process. Webmasters have nearly a year to submit their sites for this contest.
This contest is free, yet yields some impressive prizes. Our first contest had 26 contestants all vying for both the RPG Site of the Year title, and a prize package worth over $250.
The contest rules are simple:
Our first contest was largely judged by Stuffer Shack Crew Members (like all of our other contests). Our upcoming Soty will be determined in two phases:

All sites will be put into one of five groups, and readers will vote for their favorite site in each group.
Then, the five winning sites will be examined in a variety of categories by several judges, with their combined efforts to determine the winner.
Here are some important dates to remember:
Submissions commenced May 2011 and end on April 1 2012. Your site, or the nominated site must have been up and running by January 1, 2012.
April 16-20th, 2012, reader voting!!!
April 23rd, the five finalists will be posted.
April 30th, the winner will be announced!!
There is a plethora of information that can be found at the
Stuffer Shack
website and I ecourage everyone to at least head over, look at the information and even cast a vote for your favourite website.
Thanks for reading! Good luck to all the sites who participate.