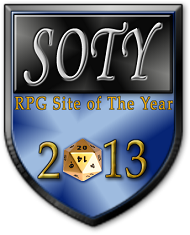 As always, I am looking forward to the RPG Site of the Year contest put on by Stuffer Shack. Time is so precious, and this contest give me and hopefully the rest of you, a chance to see what kind of creativity is out there. Submissions are being accepted for all types of sites.
This contest is like no other on the internet and thanks to Tourq, we all get a chance to enjoy such a great slew of reading for the next little bit.
So, what do you do to enter? Read on or
click here
to go to the place where it is all taking place and...
So here is some basic information:
The RPG Site of the Year Award, or SOTY, is Stuffer Shack's way of rewarding our community's awesome gaming bloggers. It's a celebration of gaming, showcasing the best of the best gaming blogs. It's a free contest in which readers submit their table-top gaming websites – in the hopes of taking home the prizes and SOTY Shield, but more importantly, the title of RPG Site of the Year.
Our first award went to a very deserving Critical Hits in 2011, the second went to The Id DM in 2012, and we're looking forward to this year's contest!
A Proper Introduction…
My name is Tourq Stevens, and this contest is being hosted by Stuffer Shack. Every month Stuffer Shack showcases a great blog in a feature called

Site of the Month

. Well, after a year of being online, it only seemed natural to begin a

Site of the Year

feature. However, wherein our

Site of the Month

stems from a simple arbitrary decision on which blog to showcase, our

SOTY

contest is a much more involved event.
This contest is free, yet yields some impressive prizes. Our first contest had 26 contestants all vying for both the

RPG Site of the Year

title, and a prize package worth over $250. Our second contest exceeded that, and we're looking forward to discovering all of the prizes for 2013. We'll announce them in the coming weeks.
How many winners will there be? Will there be different categories?
There will be one winner, always. The category is simply

"RPG Site of the Year."

This contest is geared specifically for independent, non-corporate, fan-based, table-top gaming blogs (text blogs, audio, and video – it's all the same!).
How is the winner determined?
It will be determined in two phases:
All sites will be put into one of five groups, and readers will vote online for their favorite site in each group.
Then, the five winning sites will be examined in a variety of categories by several judges, with their combined efforts to determine the winner.
When does the contest actually take place?
We'll be accepting submissions until the end of March.
Reader voting will take place in the middle of April.
The judges will go over the finalists near the end of April.
And the winner will be announced on April 30th!
How can I sponsor the contest?
Our Sponsorship page is here.
If you have any questions, I would be glad to answer them below in the comments, or you can get in touch through our contact page.
Take it easy!
-Tourq Stevens